Custom Web Development for
Non-Profit Annual 5K Event
The Valerie Fund - Client Since 2007

3 Ways to build a 5K Event website (and their fees)
RunSignUp - 3.9% + $1.00 per registrant & 4% per donation

RaceRoster - 6.5% + $1.25 per registrant & 6.5% per donation

Custom built - 2.9% + $.30 per transaction
For The Valerie Fund, a million dollars in donations and registrations per year would be astronomical for the first 2. The 3rd option enables them to maintain the website and build the system however they want and keep as much of the fees as possible, although development is not cheap, it's still the smartest solution.
Custom integrated with their proprietary internal software and backoffice and tailored to the needs of their donors and office workers.
5K Event Website Features
To start, we had to settle on some of the most important and 'must-haves' on the site to ensure the event would be a success.
Must-Have Features Include:
Website landing page and informational pages
Run and/or Walk Registration with payment
Donation capabilities
Not to forget that we must also build a back-end database to house all of the data as well as design and build in registration/donation email confirmations to be sent to the participants and donors.
What helps with bringing in more participants?
Our next wave of development is geared around features that our donors and participants would like. Teams. If a family or runner could create their own team page on the website, they may be more inclined to share the event on social media.
Adding registrants while registering can also help eliminate a lot of follow-up and back-and-forth someone may have trying to get friends and families to sign up, so we created an easy way for you to register your friends and families for them.
A team 'captain' is needed to be able to administer their team, send them messages, register more people, and view total donations and registrants they've brought in.
A thermometer or 'goal' has been put in place to help the team captains and members visualize their standing.
And a little friendly competition never hurt anyone... the top 10 teams are listed on the forefront of the site. These teams are likely to battle for the top place.
How do we keep track of all this?
Our third wave of development is a very thorough back-office dashboard that gives the staff capabilities that can help them move the process along for their participants, donors, and sponsors.
Staff can create participants, teams, and sponsors on the fly. They can download a report of all runners and walkers, look at the total donations received and run timeline reports.
They can also prepare the event on the website each year with new information and look back at historical information.
Staff needs the ability to modify teams, registrant information, as well as create sponsors so they can add to the overall donations raised count. This will also give them the ability to help donors who have difficulty.
Some over-the-top features were also built in. Create a bib number for all runners at the event, share it with the company that manages the bibs and creates digital bib trackers. This also helps when running a report to send out t-shirts.
Custom Event Integrations
This development never stops. Each year we are tasked with unforeseen requests such as participants who want to pay by check. Or a special team that wants their people to create their own teams within that team. We call it nested teams. And when the ideas come, we integrate.
More Development for The Valerie Fund
It doesn't stop here at their walk event either, we have been behind the scenes of all of their events ensuring that all of their processes take off without a hitch!
A custom vaccination card uploader with an approval process to ensure that ticket-purchasers are vaccinated before receiving their ticket.
Custom coded donation pages for ALL of their events as they all require different donation and event attendance details.
A custom silent auction page for their annual Thanksgiving Ball Gala
A custom car-dealership page when they run their annual auto-retailer event
And much more!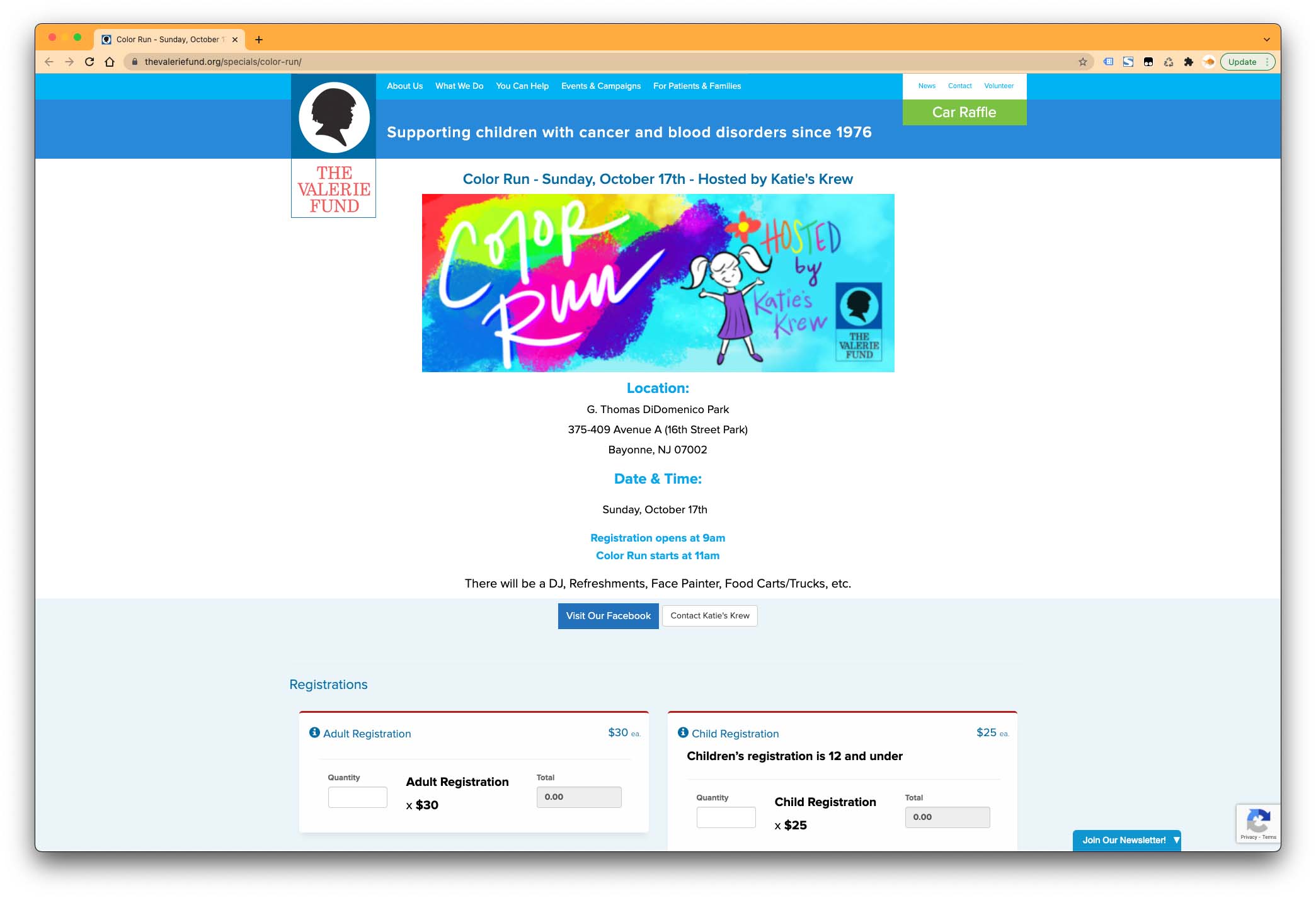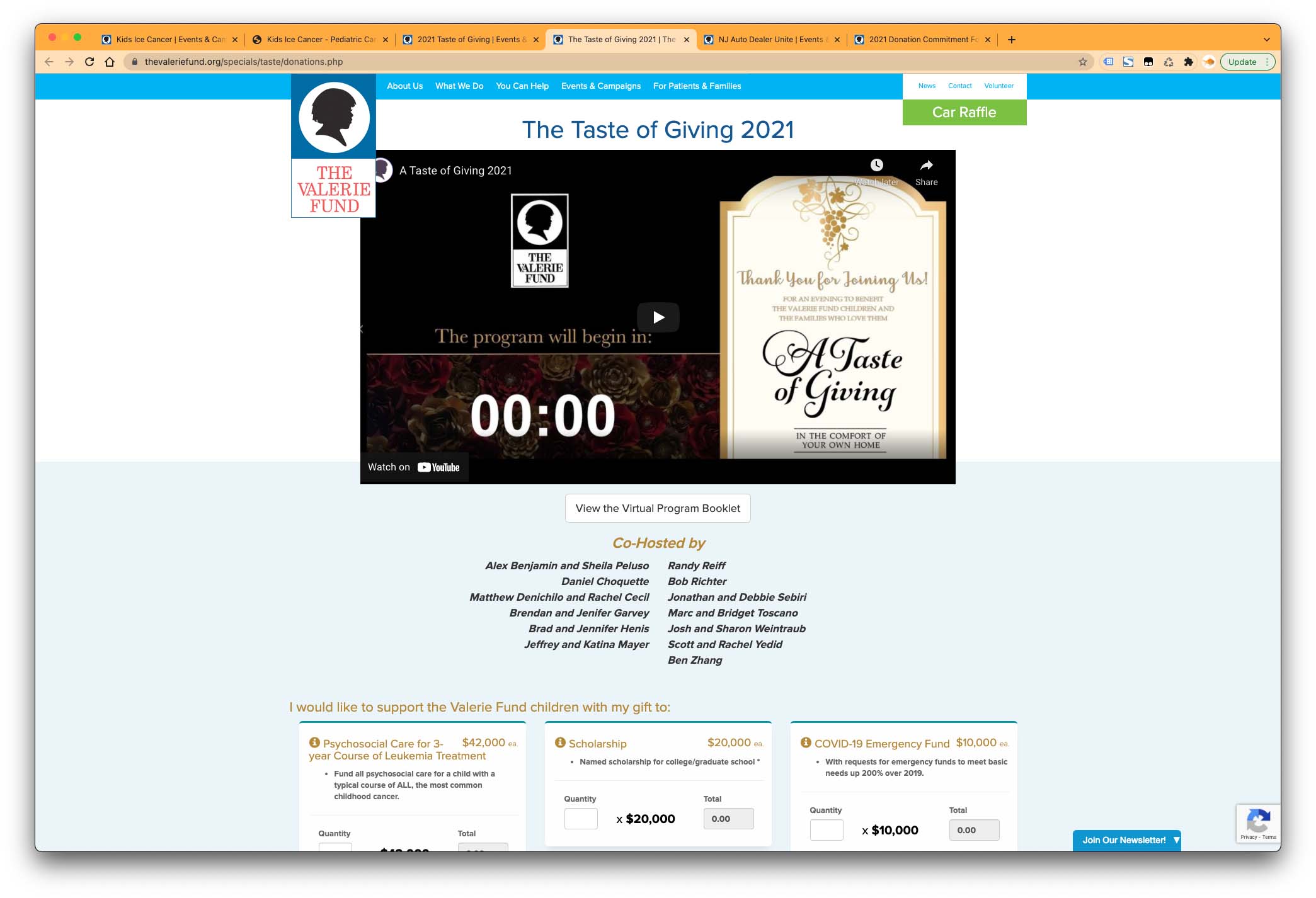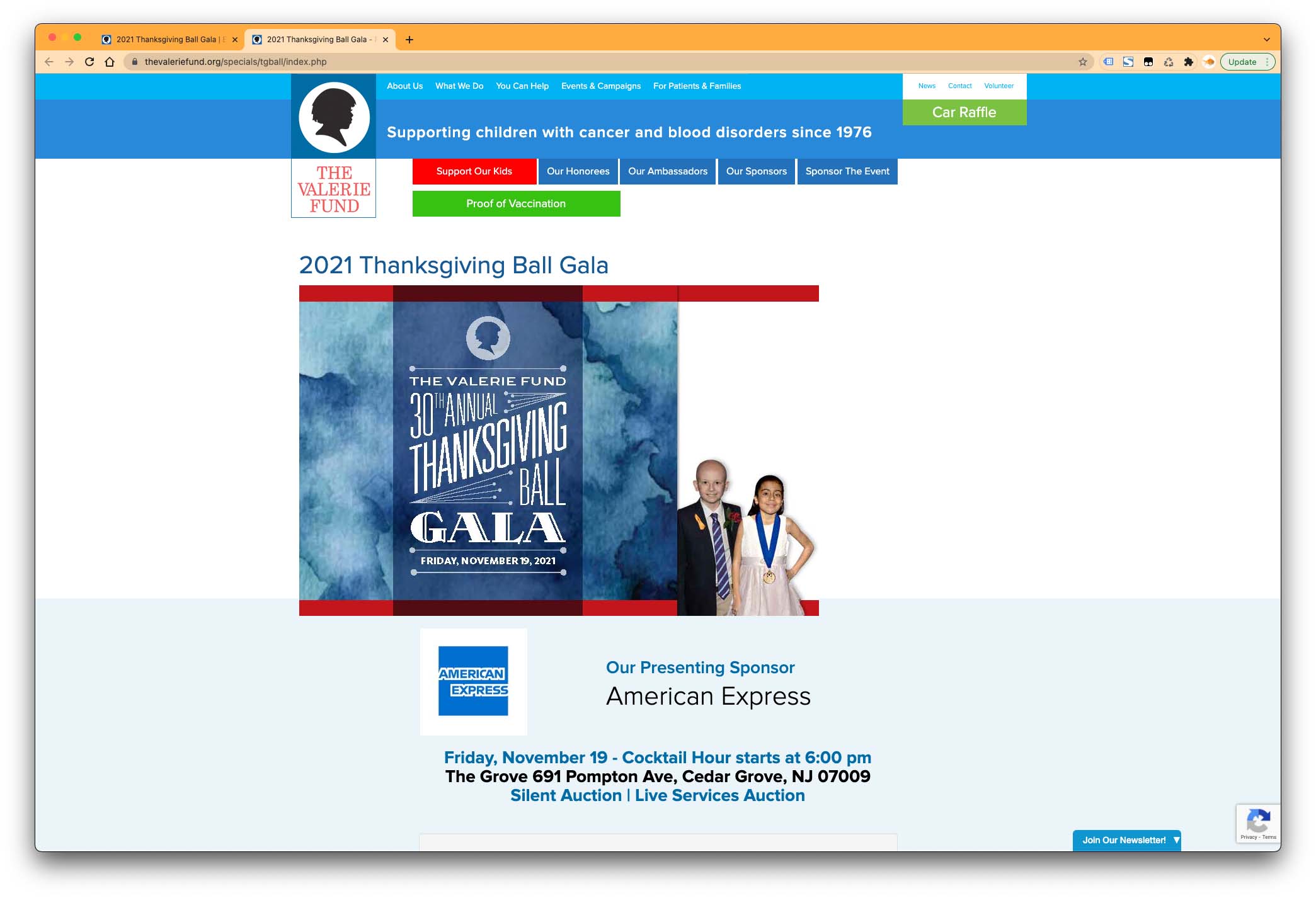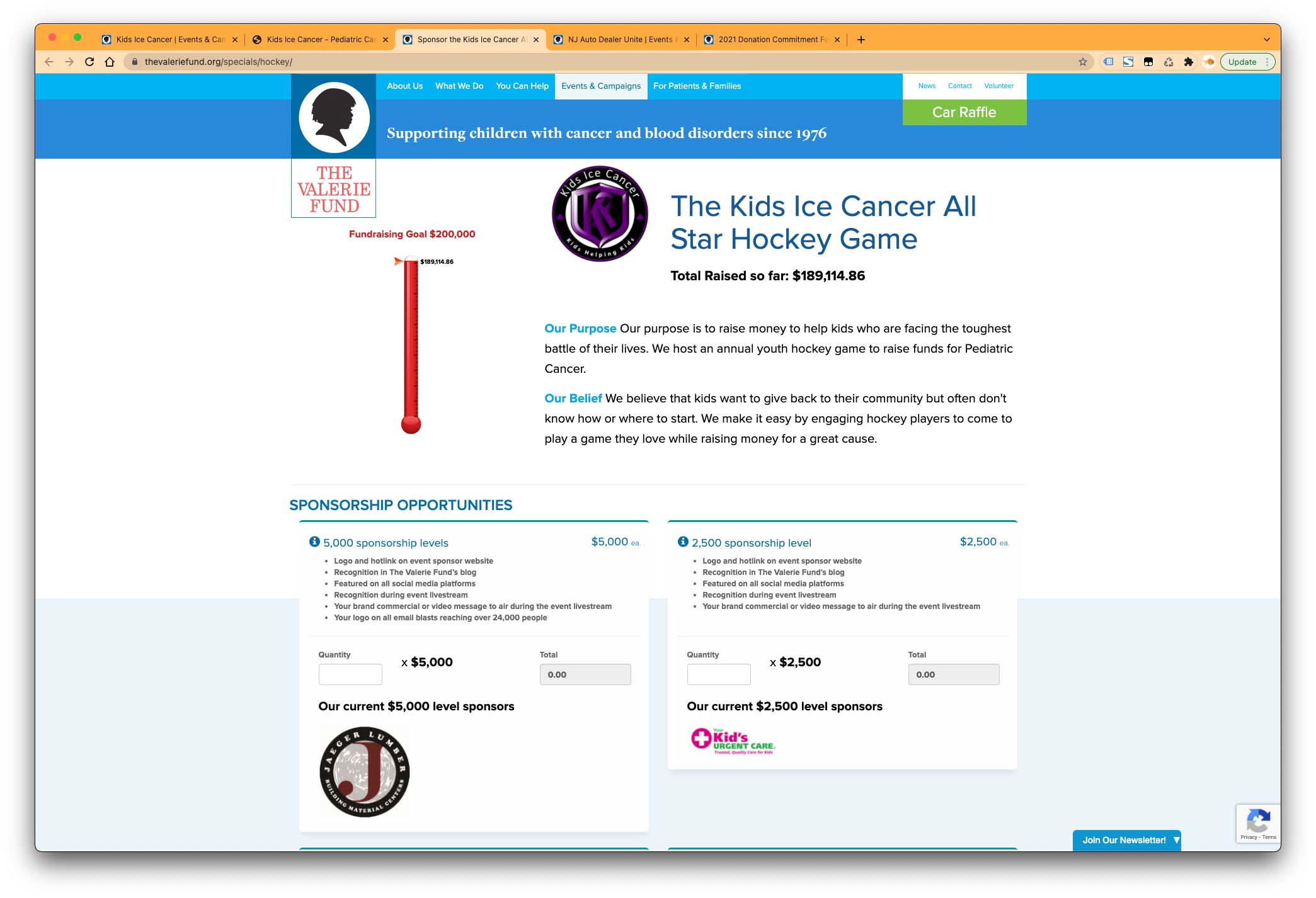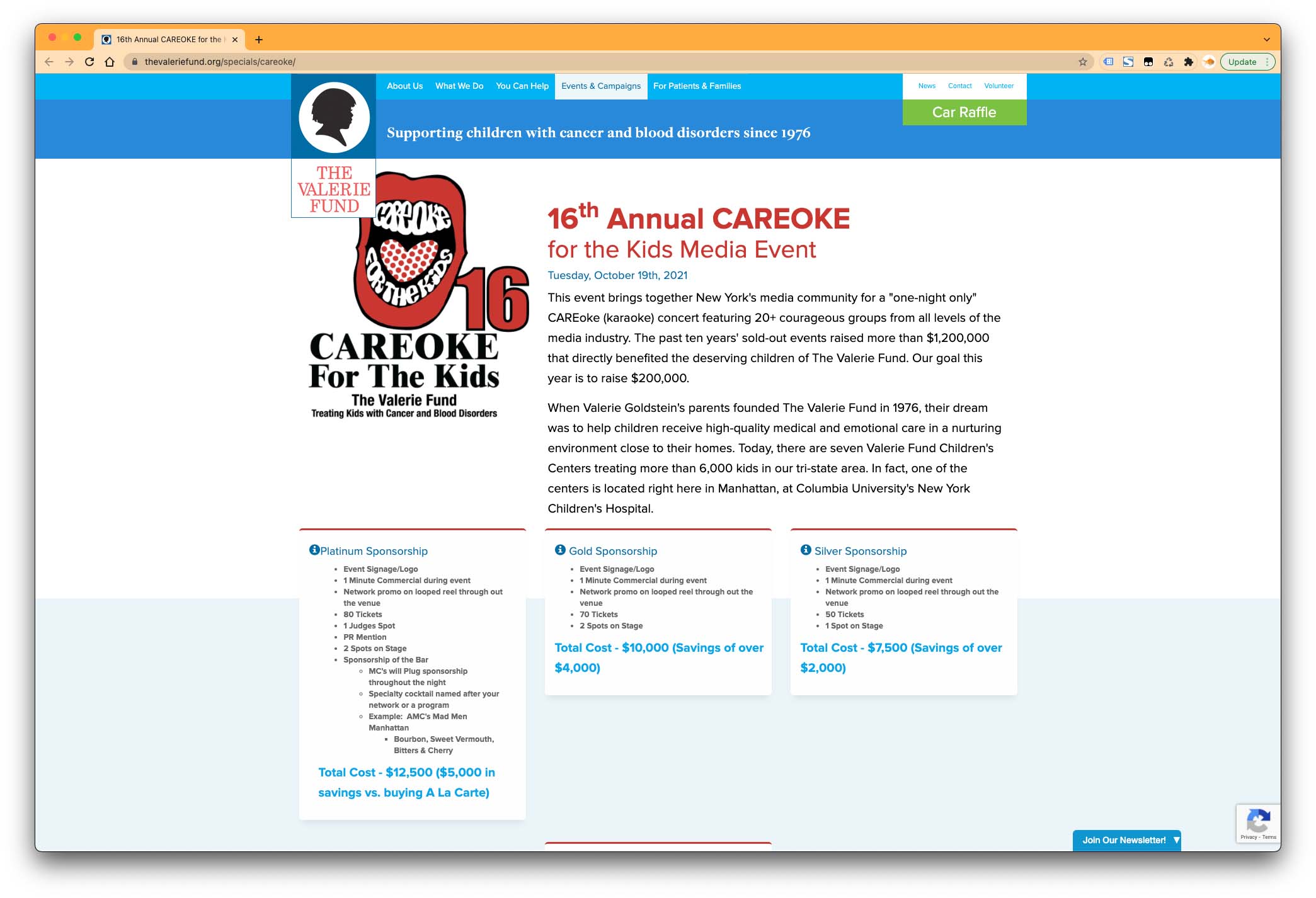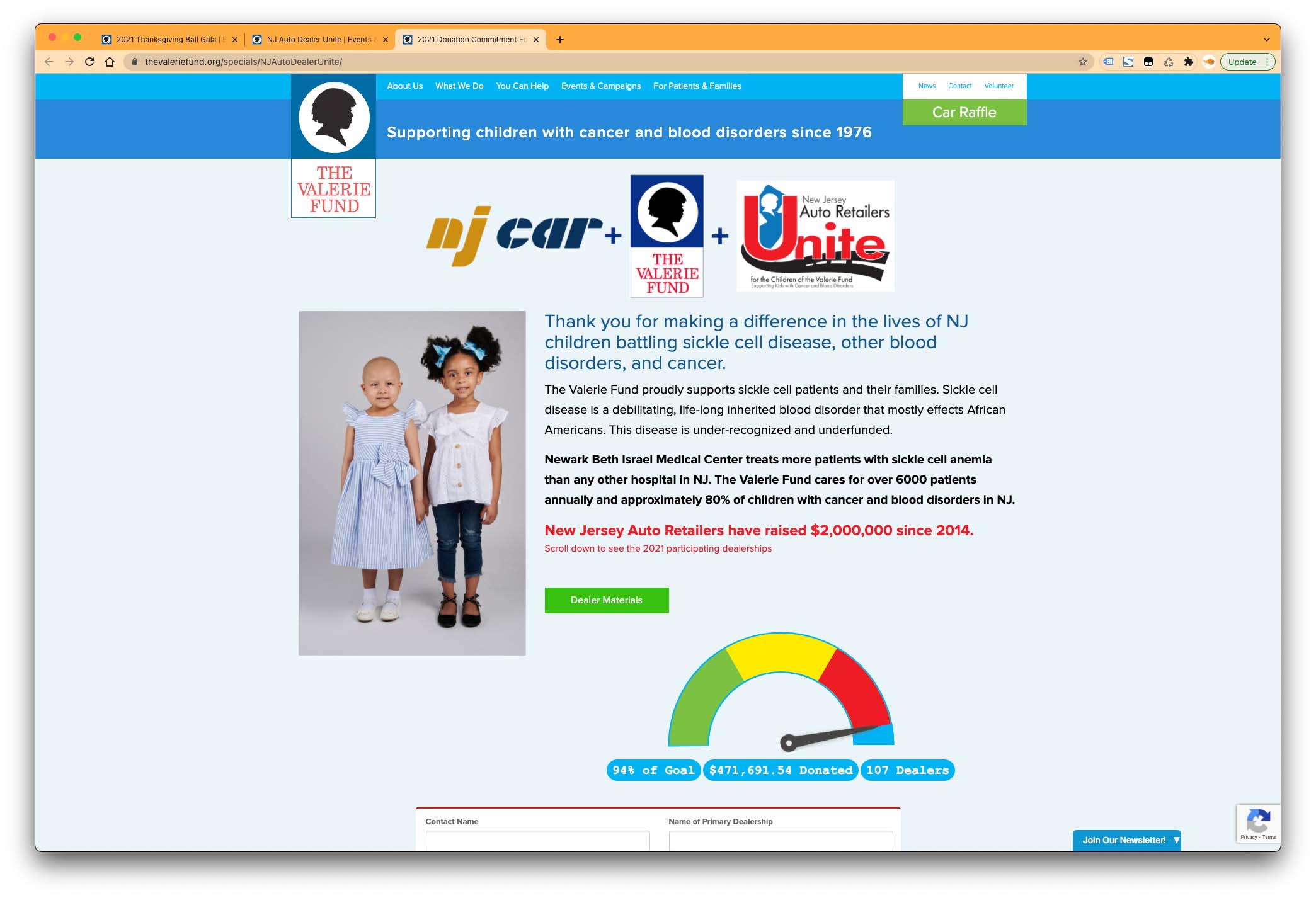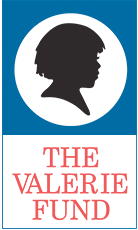 Who is The Valerie Fund?
In 2007, when JAM was just getting started, our owner worked very closely with The Valerie Fund on website and printed material. At the time they had a very basic website where participants can pay to attend their annual 5K walk and run event in Verona, NJ. They also had a website and plenty of graphic design that JAM helped with.
Fast forward to today and the 'walk' website has been custom engineered to the specifications that The Valerie Fund staff and families have set over the years. Complete with dashboards, team pages, registration features, scan for entries, and much more!
The Valerie Fund brings in 3,000+ participants through their website every year and millions of dollars in online donations.
JAM Graphics does amazing work. They have been a great partner to The Valerie Fund as we have developed our online giving, web based campaigns. They are creative, cost effective and complete projects on time!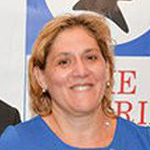 Director of Marketing and Communications | The Valerie Fund
Related Projects
Custom web development & applications, video marketing, and product photography for various verticals within the manufacturing industry.
NASA MACHINE TOOLS
Video marketing and custom web development for NASA rocket ship equipment manufacturer in Lincoln Park, NJ.
CAMBRIDGE SECURITY SEALS
Custom web development & applications, video marketing, and product photography for plastic security seals manufacturer in Pomona, NY.
Does it sound like you might need a team? Hire JAM.
Sometimes there are just so many aspects of what you need, just a website isn't enough. Just photography, just social media, just, just, just. JAM is a tight-knit team of experts, working together to make it happen!